wh-crv-offer

wh-civic-offer

hero-winter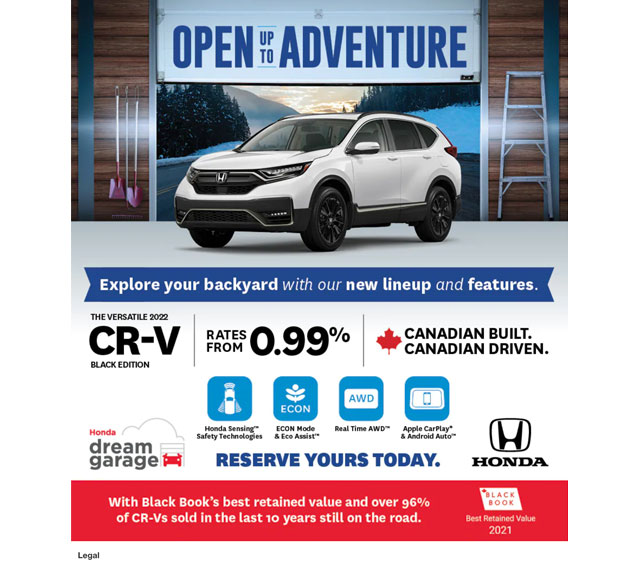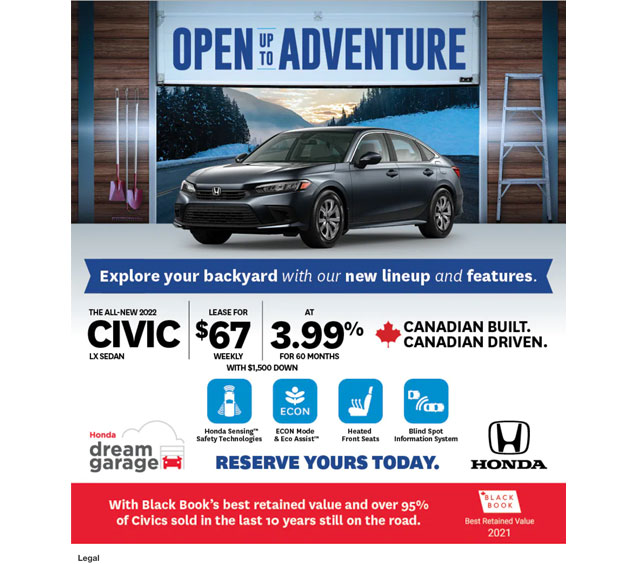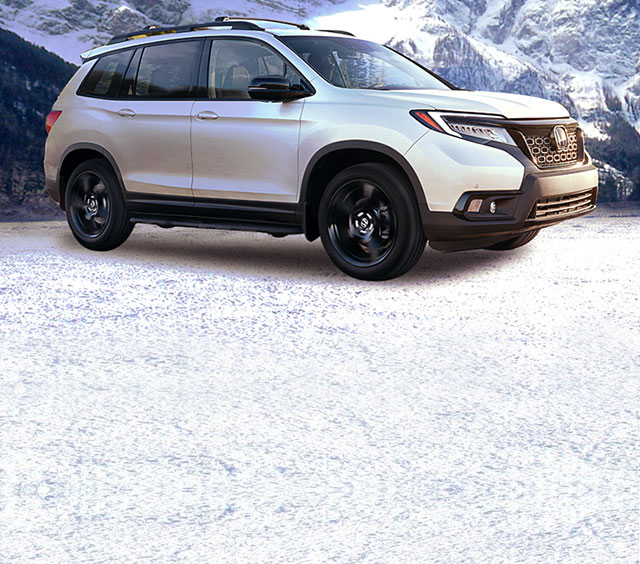 I would like to thank Franklin Badu for fine service during the purchase of our new 2022 CRV Ex-L. He was knowledgeable and respectful of my opinions. Although I intended only to start dialogue about trading in my vehicle and buying a new car. I ended up buying that day. All in it was a good experience purchasing from Franklin and Westwood Honda.
Helpful staff and excellent service
Great staff and service. Look for Franklin if you're in the market for a new car.
Excellent customer service
Mark and Ronald in the Service Department are absolutely the BEST!! I didn't buy my car from this dealership but have always had it serviced here. I would ABSOLUTELY buy from this dealership in the future and continue to use their service team.These gentlemen never let me down. They're always patient, informative and do the absolutely best for me in taking care of my Pilot. I've been using them for years and Ronald wowed me again this week so wanted to give the team a big KUDOS!!
Jennifer P
17:03 07 Jan 22
Really great customer service and awesome deal from Jeff and Den.They both are really helpful.Special Thanks to finance department.Amanda and another girl (sry)I forgot the name.They did really great job and helped me to buy Brand new Civic.Thank you 🙏 guys.Thanks to making my new year special💯😍🥳🥳🚗
Gurvinder G.
01:50 01 Jan 22
Friendly, expert and unprejudiced.
Mehrdad V.
05:54 31 Dec 21
Tony Professional services provided
Nice, smooth experience. We bought our first car here.
Very good service from salesperson Kelly 😁
Geoffrey W.
18:47 18 Dec 21
Had the pleasure of having Franklin as our sales agent. He and the staff was accommodating when I requested for an early pick up date. He helped set up car functions and explained it clearly.Happy with the purchase.
Great experience here at Westwood Honda. Highly impressed by their friendly and lovely staff. I had the pleasure of getting Franklin Badu as my sales assistant and he did a fantastic job! He helped with the full process of buying my vehicle, provide all the information I requested, and explain all functions to me in details. I would highly recommend working with Franklin and purchasing car from this dealership.
Dan and Rysam provided exceptional an exceptional customer experience in appraising my vehicle for trade in. Highly recommend going here for a fair and friendly overall experience. Thank you to the team for being so welcoming!
Franklin and Mark and Tony from Westwood Honda are easygoing, No pressure and Made the process as easy as buying a car can be
Patricia F.
17:01 22 Nov 21
Working with Jeff was an absolute pleasure! Jeff is extremely patient and I wasn't pressured to make a decision, and most importantly, he is a professional. The buying process of my 2022 Honda Civic took 2 days only. The best part – Jeff stayed in touch with me the entire time ( even on his day off) which only made the buying experience even more enjoyable. I highly recommend you talk to Jeff if you are considering buying a new or previously owned automobile. Thanks Jeff!!😊
Rajveer G.
18:01 21 Nov 21
Brought a secondary car. They have a good Buy Smart program which gave me confidence while purchasing my car. Thanks to Franklin, Sergio and team Westwood Honda.
Karanpal S.
23:04 18 Nov 21
I bought a used car last week from Westwood Honda . The staff are great specially Mr.Saeid who helped me more than I expected. They made the purchase, a smooth ,easy and fun for me. I'll definitely come back there.
Had to get some "emergency" work done on my Fit. Was blown away by the speed and customer care provided by Westwood Honda. It was my first time having service work done there. Jonathan and his team were professional, honest, and very quick. Will happily use their services again in the future. I don't think it could have been a smoother process than it was.
Thank you for your kind and quick work process and I'm satisfied.
Fantastic Service at Westwood Honda. Specifically with Franklin. 🙂 Over the course of a few weeks I was test driving several vehicles until I narrowed down what exactly I wanted. Thank you so much for your patience and help in finding me the vehicle that I wanted. I appreciated the text messages Franklin sent me text messages every time a new vehicle was to arrive at the dealership. In the end I got a vehicle that I love <3 Thanks again. I would highly recommend asking for Franklin if you are in the need for a new vehicle.
loretta T.
19:32 11 Nov 21
Westwood Honda is simply the best Honda dealership !!!!! I had the pleasant experience of purchasing my 2022 Honda Civic from Westwood Honda. As always, the quality of service was excellent. My salesperson Kelly is fantastic. As soon as I contacted her, she went out of her way to help me with my brand new car. Everything from paperwork to delivery of the car was pretty straightforward; it only took me a day! The whole team, from the sales manager and finance person Sergio excellent.Thanks, guys
Great Customer service, Franklyn and Rhysum
jatinder S.
19:41 07 Nov 21
Got my car from here today. Franklin is an amazing salesperson.Thanks Westwood Honda for your amazing customer service. And Miss Lopez you are great. Kudos✌️✌️
Bought a new car through Westwood, and I dealt with Jeff V, who made everything as easy as possible. Definitely recommend him. Second time buying through Westwood.
Richard B.
23:29 02 Nov 21
From selecting a vehicle all the way to purchasing and insuring it, Westwood Honda provided outstanding services. Keith and Ivan walked us through all steps in a friendly and efficient manner as well as provided excellent recommendations - they are true professionals and both were a pleasure to do business with.
Went there to check out a car 30 minutes before closing. Decided I wanted. Financing approved and car delivered the next day. Very professional and highly recommended
I've been stressing for weeks as my 2017 Mini Cooper lease term came to an end. After I decided on a 2022 Honda Civic EX, I needed to find a dealership with a car in stock and a deal that I can be happy with. Franklin helped me with the deal and gave me a complete and thorough talk/demo of the car. Rysam assured me that my Mini Cooper lease wrap up will be taken care of by them. I was able to hit two birds with one stone and drive away with peace of mind in the new Civic. The customer experience was warm and friendly, I didn't feel intimidated or uncomfortable, and they were upfront honest with a genuine desire to help. If you're considering a Honda, I feel you really should consider what Westwood could do for you. Looking forward to the next few years with Westwood Honda.
Thia is our first experience with Honda Westwood (and Honda in general) and we wished we would have done this much sooner. Friendly, knowledgeable and patient staff backing up the awesome vehicle we chose. Cannot ask for more! Thank you very much!!
Eric Lam Immigration Consulting Inc. (.
05:13 30 Oct 21
100% Online Experience
Shop From Home

Instant Pricing – No Hassle – Build Your Deal Online
We pride ourselves on community values, knowledgeable staff, sustainability, commitment to quality, and state-
of-the-art facilities. We treat you like family.
Welcome to Westwood Honda
Established in 1978, Westwood Honda has grown to be one of the premier new and used Honda dealerships in Port Moody. We specialise in Honda cars, SUVs, and even the occasional truck! Since our opening moments, we have worked hard to create a Honda buying experience that goes above and beyond for the community we hold dear. We achieve that with our unique combination of friendly customer service and unmatched expertise at every moment of the Honda buying journey. From our broad selection of new and used Honda cars, trucks, and SUVs to some of the brightest automotive minds in Port Moody working here at the dealership, we are your local Honda resource. When you are ready to start looking for the perfect new ride, come and see us at Westwood Honda. We've got something you're going to love ready and waiting!
We're Your New and Used Honda Car Dealer in Port Moody
Of course, buying a new or used car, truck, or SUV from Westwood Honda here in Port Moody is only the first step in what we hope will be a long and familiar relationship. When you are ready, we welcome you to come back and see us again here at the dealership. We offer a full suite of after-sale services that adeptly cover any and all of your automotive needs. From keeping your new car, truck, or SUV looking and feeling like new to finding you the perfect OEM part for your next DIY project – our expert team has everything for your new or used Honda on hand. Whatever automotive bumps you run into on the road ahead, you can count on the expert team here at Westwood Honda to see you through it, after all, we aren't just another Honda dealership – we are Port Moody's Honda car, truck, and SUV experts!
We source only the best value vehicles, world-class sourcing and importing team, staff committed to finding
the right car for you.