wh-crv-offer

wh-civic-offer

hero-summer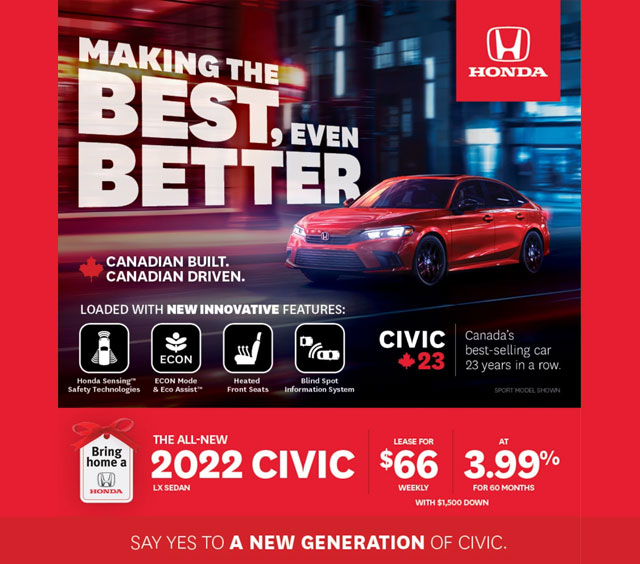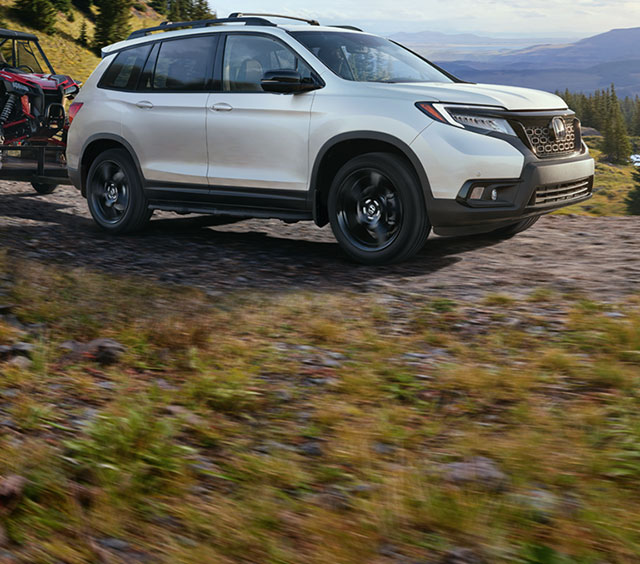 I Recently purchased my 2018 RDX Acura from Westwood Honda…. I feel Franklin Badu gave me the utmost professional attention. He was very thorough and honest about every detail of my car of choice. Franklin never made me feel uncomfortable or put any pressure whatsoever on me while discussing purchasing my new vehicle. I feel Franklin went above and beyond to make sure this was the car I wanted and would be very happy with.Rysam MacIver was very helpful in "steering" me in the right direction when I enquired about new winter tires for my Acura. He was very matter of fact and I appreciated his input and honesty of what I needed in tires.Sergio was great to deal with in the finance department and explained every thing very clearly.This was a very pleasant experience and I would recommend everyone go to Westwood Honda to receive excellent service when thinking of purchasing a new vehicle.
I was helped by Franklin to find the car I was looking for. Non negotiable prices but they're reasonable. In one day and out with my car on the next.
Very helpful, efficient and super friendly service from the sales managers, finance team and last but not the least the sales person! By far the the best showroom of any make in the lower mainland area. Will definitely get our repeat business.
Thank you Franklin, Sergio, & team! You've done an excellent job at providing great customer service. Definitely one of the better dealerships out here…
Franklin and the team were extremely knowledgeable through the whole process. With this being the first time I bought a car in Canada they really helped me understand all the ins and outs. Highly recommend Westwood Honda to anyone!
I'm so happy for buying Honda CRV from westwood Honda. All staff are very professional and helpful.In sales section Mr. Saeed Lotfi was very expert and helped me to find right car, there is a wonderful customer service and in service section the Ronald is awesome guy to help you for car's problem. I highly recommend Westwood Honda for buy and service.
Great experience here at Westwood Honda - would recommend to friends and family! Got a great deal on my 2019 Civic and it comes with brand brand new tires. I found a small dent and they took it out too! Ivan in Finance is very helpful and super kind. Franklin is just a whiz with the vehicle knowledge and provided excellent service. 👌
We were in the market for a secondary vehicle and Franklin could find us a good match within a couple of days and made the process quick and easy for us. He was available and updated us when needed.
Friendly, knowledgeable service. Mike and the rest of the staff were patient and able to answer all of our questions. Honest and not pushy. Very pleased with my new lease.
Bought a new Honda Civic Touring. Best choice was Westwood Honda. Fabulous salesman, Eddie Bai, and wonderful staff. From financing, Siobhan to insurance, I'm sorry not to get his name as he was extremely helpful and kind. Best dealership to buy the best car's.
Just bought my third car from Westwood. They are an easy dealer to work with and I've always found the service to be very friendly and low-pressure. Great experience as always.
Service was impeccable. Keith was great, honest, and down to earth. Great guy to deal with and buy my vehicle from! Ivan was also great. 5-stars to both of them for a job well done. Awesome job. Really enjoyed my experience with the team at Honda and love my new car.
Kelly is very nice, professional and always provide the excellent customer service. I strongly recommend her!!!
Excellent dealership .Tony was great explaining all features of car . Would certainly recommend this dealership.
We had such a great experience at Westwood Honda. This was our second time dealing with them. There was no high pressure sales tactics or manipulation used. We test drove many cars before finding the right one.The finance department went above and beyond When we came back to sign the papers, they had a Starbucks snack box for my son.You can't go wrong with Westeood Honda. I recommend them all the way.
Great service, quick, honest and friendly. A couple of small issues with my used vehicle purchased, they are eager to fix them up. Good quality used vehicles on the lot. Will definitely make that drive to Port Moody from Kelowna to deal with them on future purchases!
Raymond H.
23:17 03 Sep 21
Had an awesome experience purchasing my Nissan from Westwood. After calling, Tony answered the phone promptly and had my car ready to test drive by the time I arrived! Everything went smoothly and quickly - highly recommend! They have unbeatable prices that you won't find anywhere else in BC.
Hardeep Grewal 3.
19:49 03 Sep 21
First time dealing with a dealership & I Highly recommend Jamie. He listened to what we needed & was very supportive throughout the whole experience. Though we had a few hiccups along the way he made the experience positive as he genuinely cared.2 thumbs up for Jamie Fisher!
I am very pleased to work with the west wood Honda , they are very polite and help full , I definitely recommend them for buying your next Honda.
Just leased my first car (2022 Honda Civic LX) ever! When I went in, it was incredibly busy, so there was no salesperson available to help me at the time. Rysam, one of the managers, took it upon himself to help me out, and showed me the vehicle I was interested in. From there on, it was smooth sailing! Westwood Honda has an amazing team; friendly, helpful, and knowledgeable. Ry, Jamie, and Mark really made my experience a pleasant one! I'll definitely be bringing my car in for servicing here, and be recommending these lovely people to my friends.
Great people great car buying experience made painless also very fast and efficient service. They take great care of you highly recommended Westwood Honda to anyone looking to buy a new car or upgrade an old car.
All the sales persons and staff were super nice and helpful. Had no issues or whatsoever. Well recommended.
The salesman Franklin was great to deal with, he went above and beyond ....whole team at Westwood Honda are great to deal with....100% recommend
If you want to find a good quality cars with great quality service, this is definitely the perfect place for you. I've got my first car ever in this dealership about 2 months ago with the help of Keith. Keith provided an excellent customer service. He was very friendly, patient and helpful in helping me find the perfect car. A big shout out to Katey as well for helping me have a smooth process with my financing.Customer service is obviously their strategy and it shows. I would definitely recommend this dealership to my friends who're looking for great quality vehicles.
We found the staff in all departments of buying our vehicle highly helpful, cheerful, respectful, informative and professional. We walked away feeling very satisfied with the automobile we purchased and interactions of everyone we worked with. Thank you Westwood Honda!
Franklin Badu was simply wonderful to work with, he is very knowledgable, helpful and sincere. We had a hiccup with the car and he listened and knew exactly what to do and made everything right for us. Never imagined buying a car could be this comfortable and pleasant an experience. We have already spoken to friends about Franklin and we know we will back in future to see him. Thank you Franklin.
We pride ourselves on community values, knowledgeable staff, sustainability, commitment to quality, and state-
of-the-art facilities. We treat you like family.
Welcome to Westwood Honda
Established in 1978, Westwood Honda has grown to be one of the premier new and used Honda dealerships in Port Moody. We specialise in Honda cars, SUVs, and even the occasional truck! Since our opening moments, we have worked hard to create a Honda buying experience that goes above and beyond for the community we hold dear. We achieve that with our unique combination of friendly customer service and unmatched expertise at every moment of the Honda buying journey. From our broad selection of new and used Honda cars, trucks, and SUVs to some of the brightest automotive minds in Port Moody working here at the dealership, we are your local Honda resource. When you are ready to start looking for the perfect new ride, come and see us at Westwood Honda. We've got something you're going to love ready and waiting!
We're Your New and Used Honda Car Dealer in Port Moody
Of course, buying a new or used car, truck, or SUV from Westwood Honda here in Port Moody is only the first step in what we hope will be a long and familiar relationship. When you are ready, we welcome you to come back and see us again here at the dealership. We offer a full suite of after-sale services that adeptly cover any and all of your automotive needs. From keeping your new car, truck, or SUV looking and feeling like new to finding you the perfect OEM part for your next DIY project – our expert team has everything for your new or used Honda on hand. Whatever automotive bumps you run into on the road ahead, you can count on the expert team here at Westwood Honda to see you through it, after all, we aren't just another Honda dealership – we are Port Moody's Honda car, truck, and SUV experts!
We source only the best value vehicles, world-class sourcing and importing team, staff committed to finding
the right car for you.